INTRODUCTION
PCs are more commonly used than laptops in the gaming community because of the former's lower price tag. However, laptops are a terrific purchase for mobile gaming and are often more convenient. Such a device is the Razer Blade 15 2018 H2, the subject of today's in-depth examination.
Even though it's not inexpensive, this system has top-tier internals and delivers outstanding performance, making it ideal for gamers. It is a true powerhouse, capable of running even the most demanding current games with ease. All of the Blade products are exceptional because they strike a great balance between strength and portability. There's a lot more to this incredible device, and we'll cover all of it. So, without further ado, let's get going.
Concerning the Razer Blade 15 2018 H2
If you're a gamer in the market for a cheap portable gaming station, go no further than this laptop. However, it is jam-packed with other capabilities that will make gaming more exciting than ever, offsetting its average battery life and middling storage capacity.
In this review, we'll cover the basics first, followed by the ins and outs of performance and individual parts. Let's get started then.
Key Specifications
Category Specifications
Display Full HD IPS (1920 x 1080) 144Hz
Processor Intel Core i7 8750H (6 cores 12 Threads)
RAM 16 GB DDR4
Storage 256 GB SSD
Graphics Card NVIDIA GeForce GTX 1070 Max-Q
Connectivity WiFi, Bluetooth
Operating System Windows 10
(1) Gameplay
Even if serious gamers today are searching for graphics cards in the RTX range, it is safe to claim that this laptop gives outstanding performance for recent games.
The price of these cards makes them out of reach for many people, but the GeForce GTX 1070 Max-Q is a great option if you need a powerful graphics card without breaking the bank. In addition, our testing has led us to the conclusion that this card is capable of running most games at full high definition (FHD) resolution with high settings.
To achieve higher FPS performance, however, you may need to adjust some settings in more recent games like Elden Ring, Spider-Man, or Cyberpunk 2077. On the other hand, you won't have any problems playing old games.
With a 144Hz refresh rate, you can take advantage of graphics card capabilities like NVIDIA G-Sync, resulting in a more fluid and enjoyable gaming experience for your eyes.
The Intel Core i7 8750H's 6 cores and 12 threads are a great match for this laptop's GPU and should perform admirably in the latest games. Add to that the fact that it has 16 GB of DDR4 RAM, and you have a powerful gaming rig.
(2) Show
The 15.6-inch 4K FHD display on the Razer Blade 15 2018 H2 has a refresh rate of 144Hz, ensuring smooth gameplay. This screen also has a high contrast ratio and wide viewing angles. In addition, its maximum brightness is an astounding 400 nits.
The horizontal viewing angle is quite good, with no degeneration at the borders, which is excellent news, and the black uniformity and superb reflections are standard and constant for this sort of display. Also excellent is the vertical viewing angle, with just minimal loss of quality near the screen's extremes.
In conclusion, this is a terrific screen for gaming and creative work, with excellent color reproduction and viewing angles that justify the asking price.
(3) Battery Capacity
The machine's battery life is below average, which is a major negative. considerably though it has a lithium-ion battery, it only lasts for about five to six hours on a single charge when used for varied purposes, and considerably less when playing games.
However, keep in mind that this is a power-hungry laptop, so it's best to avoid playing games while running on batteries if at all possible.
(4) Relationships
The Razer Blade 15 2018 H2 has a wide variety of connectivity options. Two USB 3.1 Type-A ports, a Thunderbolt 3 port, and a headphone jack can be found on the left side of this device, which is par for the course for modern gaming laptops.
SEE ALSO : Google Pixelbook 12in — A Great Handler Of Chrome OS — 2023
There is a Kensington lock slot, an HDMI 2.0 port, and a second USB 3.1 Type-A port on the right side. This laptop has 802.11ac WiFi, as well as Bluetooth 4.1 for wireless communication.
The Thunderbolt 3 port is worthy of commendation because it is compatible with Thunderbolt 3 displays, external graphics cards, and most other high-speed peripherals. The available network connections may not be cutting-edge or revolutionary, but they are more than adequate for most users' needs.
(5) Audio/Visual Input/Output Devices
Especially in modern computers, a high-quality keyboard, trackpad, and speakers should all be included as standard equipment. Fortunately, the Razer Blade 15 2018 H2 offers these features and more.
The keyboard's responsive, with keys that are both good to the touch and illuminated by Chroma lighting, which contrasts beautifully with the laptop's matte finish. The keyboard is great, and it goes perfectly with the large trackpad.
The built-in speakers aren't exactly impressive, but that's to be expected from a laptop. They do a respectable job for laptop speakers, but for the greatest possible experience, you should invest on external speakers or a high-quality headset.
(6) Design and Construction Quality
Some customers want their laptops to look as well as they function, despite the fact that most gamers don't care about the aesthetics of their gaming rigs as much as they do about the configuration and performance.
His Razer laptop, like other Razer products, is sure to impress any gamer, and that's good news for you. The visuals are stunning, making this a top choice for any player concerned with how their equipment presents itself online.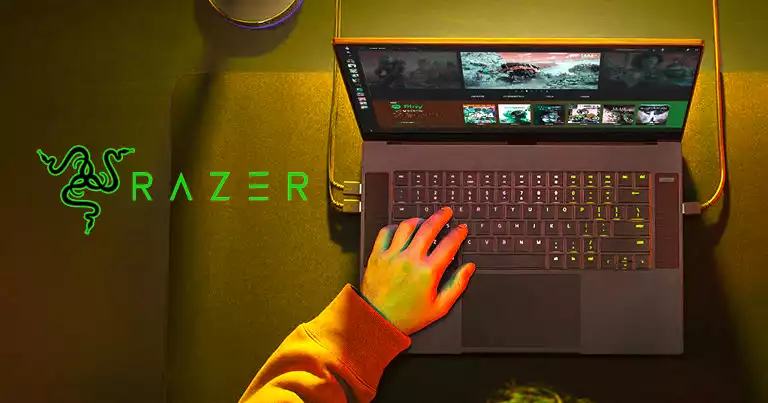 The overall durability of this item and the high quality with which it was constructed offer even more value to your purchase. This Razer laptop has the look and feel of a high-end product, making it a great choice if that's what you're after.
Pros
Refresh Rate of 144 Hertz and Full HD IPS Display
Quality construction and a pleasing design
Video card with a dedicated GeForce GTX 1070 Max-Q GPU
Exceptional efficiency in gaming
Increased responsiveness thanks to 16 GB of DDR4 RAM
Chroma-illuminated, responsive keyboard
Options abound for making connections.
G-Sync
 Cons
Average battery life Limited capacity
SEE ALSO : i7 Windows Laptop
Conclusion
The Razer Blade 15 2018 H2 isn't the best gaming laptop available right now, but it does have many of the bases covered. You won't have to empty your money account to get your hands on this reasonably performing laptop.
Simply said, this gaming setup is an outstanding value for the money, and if you're looking for a good gaming rig that doesn't break the bank but can run most recent games, you should give this one a try.